Amazing had her piano recital yesterday (
video here
!), and as in every recital in the past, I needed to bring a dessert to share at the reception following. I had planned on making sugar cookies Saturday evening, after my seasonal job, but I had to work 2 hours late and didn't make it home until 8. Then, I needed to feed my family, who had neglected to eat dinner in my absence (and in the presence of a couple of new video games!) so I didn't even wind up having time until after 9. At this point, I realized that corn syrup was omitted from the grocery list by my helpful Cosmo, while copying it down from the chalk board for Daddy Y. Long story short, I was in need of a quick dessert and an extra hour to make it!
Flipping through my recipes, I happened upon this one from my dear friend Lisa, who I think must have been looking out for me from heaven! We were neighbors years ago, and she and I used to stand at the fence line talking until late into the night while Daddy Y was on 3rd shift. She had never had any children of her own and she loved spoiling my then 2 year old Awesome. She brought us these treats one year for Christmas, along with the recipe.
Lovely Lisa's Chocolate Jewel's
(or the 2 remaining, anyway...)
2 cups sugar
1/2 cup milk
4 heaping TBSP cocoa
1/2 stick of margarine
1 cup peanut butter
1 TBSP vanilla
3 cups quick-cooking oatmeal
In a large sauce pan, combine the first 4 ingredients (sugar, milk, cocoa, margarine) and stir constantly until boiling. Then boil while constantly stirring, for one minute. Don't stop stirring and don't boil for less than one minute (a little longer won't hurt!) or the sugar won't completely dissolve and it won't be the same!
Once you've finished this, remove the pan from the heat and add in the last 3 ingredients. I add in my vanilla and peanut butter and stir those until the peanut butter is dissolved and then add my oats. Place mixture in teaspoon to tablespoon sized scoops (depending on your preference) onto wax paper to cool. I was in a huge hurry on Sunday, so I placed a sheet of wax paper onto a baking sheet, put 2 dozen teaspoons of the mixture on the pan and stuck it in the freezer to power cool. I put the remaining mixture on wax paper on a beach towel on my dining room table to cool. The freezer mixture cooled in about 5 minutes.
Store the cookies in a storage bag or other air tight container and they will last for approximately 18 hours, unless your family happens to have more reserve than mine does.
All told, beginning to end, this recipe MAYBE took me 15 minutes. They were very yummy, easy, wonderful cookies to take to our piano recital. I'm all about that! Thank you for this life saver Lisa!
I think it's kind of funny that my children love my hot chocolate better than any other hot chocolate in the world. They go on and on and on about how yummy it is. Want to know my secret? The first secret is the mug. Daddy Y had a Santa mug he received in 1971 from his parents. It's pictured on the left. It has been glued multiple times over the years. In 2006, I saw these Santa mugs, and decided my children each needed one as well. Obviously, it's not the same, but the idea is. You've got to have a special hot chocolate mug!
The second secret to my hot chocolate, an extra TBSP of hot chocolate mix (Nestle Rich Milk Chocolate) per serving, mixed with 1/2 hot water and 1/2 whole milk. None of this thin watery christmas tree lot hot chocolate for my babies! I usually top it off with christmas shaped marshmallow, but this year, we've "kicked it up a notch" with whipped cream and chocolate syrup and/or sprinkles. I'm not afraid of sugar.
Enjoy!
Linking up with It's a Blog Party and Joy of Desserts and Living Life Intentionally today! Check them out!
http://www.itsablogparty.com/

http://joyofdesserts.blogspot.com/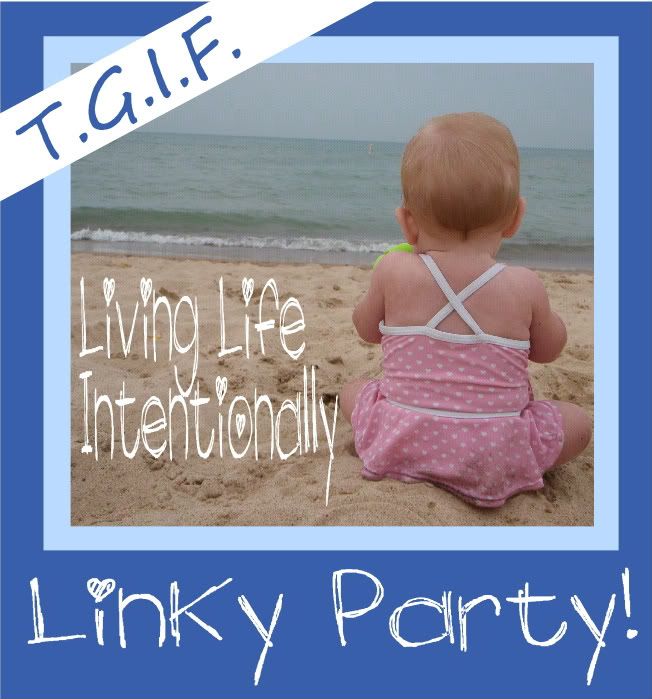 http://livinglifeintentionally.blogspot.com/2011/12/tgif-linky-party-9.html?utm_source=feedburner&utm_medium=feed&utm_campaign=Feed%3A+LivingLifeIntentionally+%28Living+Life+Intentionally%29